It was recently reported and confirmed that the Southern Poverty Law Center (SPLC) has been tapped to join YouTube's Trusted Flagger Program, which was developed to help YouTube police "extremist content". This is concerning, and for many reasons. There has been extensive reporting on the SPLC playing fast and loose with their designations of  "hate group" and "extremist" from Politico, Bloomberg, the New York Times, and many others. One of worst consequences of their politically motivated "hate group" designations was the 2012 domestic terrorist attack on the Family Research Council headquarters. The shooter, Floyd Lee Corkins II, who said he hoped to "kill as many as possible" later told the FBI he was motivated by the SPLC's rhetoric and even used their "Hate Map" to locate his target.
So far, most of the criticism directed towards the SPLC has focused on the individuals and organizations that they have labeled as "extremists "or "hate groups". I want to instead  highlight a few overtly violent extremist organizations that they have not labeled as "extremists" or "hate groups".
Redneck Revolt
Redneck Revolt is a self described "above ground militant formation" that claims to have 30+ vetted branches nationwide. Since their inception, Redneck Revolt has been very busy recruiting at gun shows and community events, advocating for class war, and conducting armed anti-Trump demonstrations. But what's most alarming are the resources they provide on their website. They promote several PDFs that endorse "armed struggle" and even offered a 36 page "Mini-Manual Of The Urban Guerrilla" (this was later removed after our original reporting) which pictures left-wing militants using RPGs and outlines tactics for guerrilla warfare including sections on "sabotage", "kidnapping", "executions", "armed propaganda", and "terrorism".
Has Redneck Revolt been labeled an extremist group by the SPLC? Has a lengthy profile on their members been circulated through legacy media? Should they worry their YouTube, Facebook, or Twitter content will be removed? Well, according to the SPLC, the answer is no. In fact the only time this organization shows up at all on the SPLC website is in their "Hatewatch Headlines" in which they link to three favorable articles.
Red Guards Austin
Red Guards Austin is a Marxist-Leninist-Maoist militia group based in Austin, TX. Their website contains multiple reports on their confrontational and often armed demonstrations. They also actively recruit students at the University of Texas, where the hold weekly "self-defense" training via their student front group, Revolutionary Student Front.
They also openly advocate for violent revolution against capitalism:
"we must seriously take up the task not only of self-defense on the personal and community level, but we must also struggle to unite all genuine antifascists behind the necessity of revolution.  Revolution means the long fight for communism and nothing less."
I'll ask the same questions. Has this organization been labeled an extremist group by the SPLC? Has a lengthy profile on their members been circulated through legacy media? Should they worry their YouTube, Facebook, or Twitter content will be removed? The answer again is a resounding no.
Revolutionary Abolitionist Movement
Revolutionary Abolitionist Movement (RAM) is another armed far-left group that holds routine training workshops at their Brooklyn, NY branch designed to recruit and radicalize a new generation of revolutionaries. These include an "Introductory Class" a "Legal Training" workshop, an "Introduction To Anarchism" class, and even an "Our Enemies in Blue" anti-police workshop.
They even launched a national "Deface Columbus Day" campaign via YouTube and Twitter where they encouraged antifa cells all over the country to vandalize and deface property. This organization has also somehow managed to evade the "extremist" or "hate group" designation of the SPLC.
So why are these armed extremist organizations not mentioned by the SPLC? How is it that an extremist watchdog organization with over $30M in operating funds, four state offices, and over 200 employees keeps dropping the ball on combating  extremism that comes from the left? The SPLC is either the worst steward of the millions of dollars that are donated to them each year or they are deliberately choosing to give far-left extremist groups a pass. We reached out to the SPLC for comment but have not yet received a response.
If the SPLC's track record of clear ideological bias when designating groups or individuals as "extremist" is any indication of how they will operate as a member of YouTube's Trusted Flagger program, then there is zero doubt they will abuse that role. If YouTube is serious about combating extremism on their platform and not just policing conservative voices they should follow the lead of the Federal Bureau of Investigation and Department of Defense and drop the SPLC.
#DropSPLC Campaign Action Items:
Share this article on social media, use the hashtag #DropSPLC and tag Youtube
Encourage YouTube content creators who might share our concern put pressure on YouTube by covering the information in this article and participating in the #DropSPLC campaign.
Additionally, here are some images you can share on social media: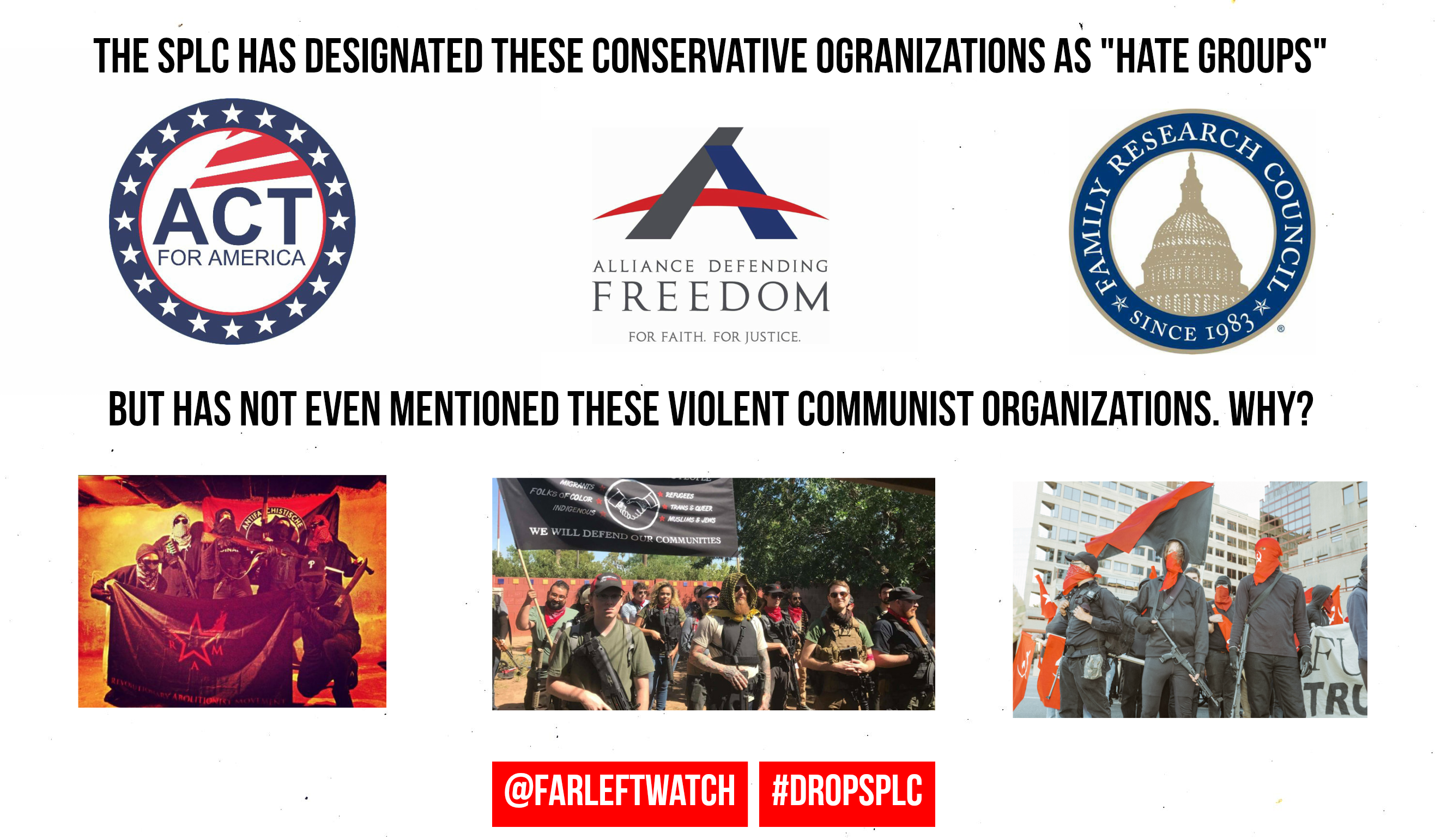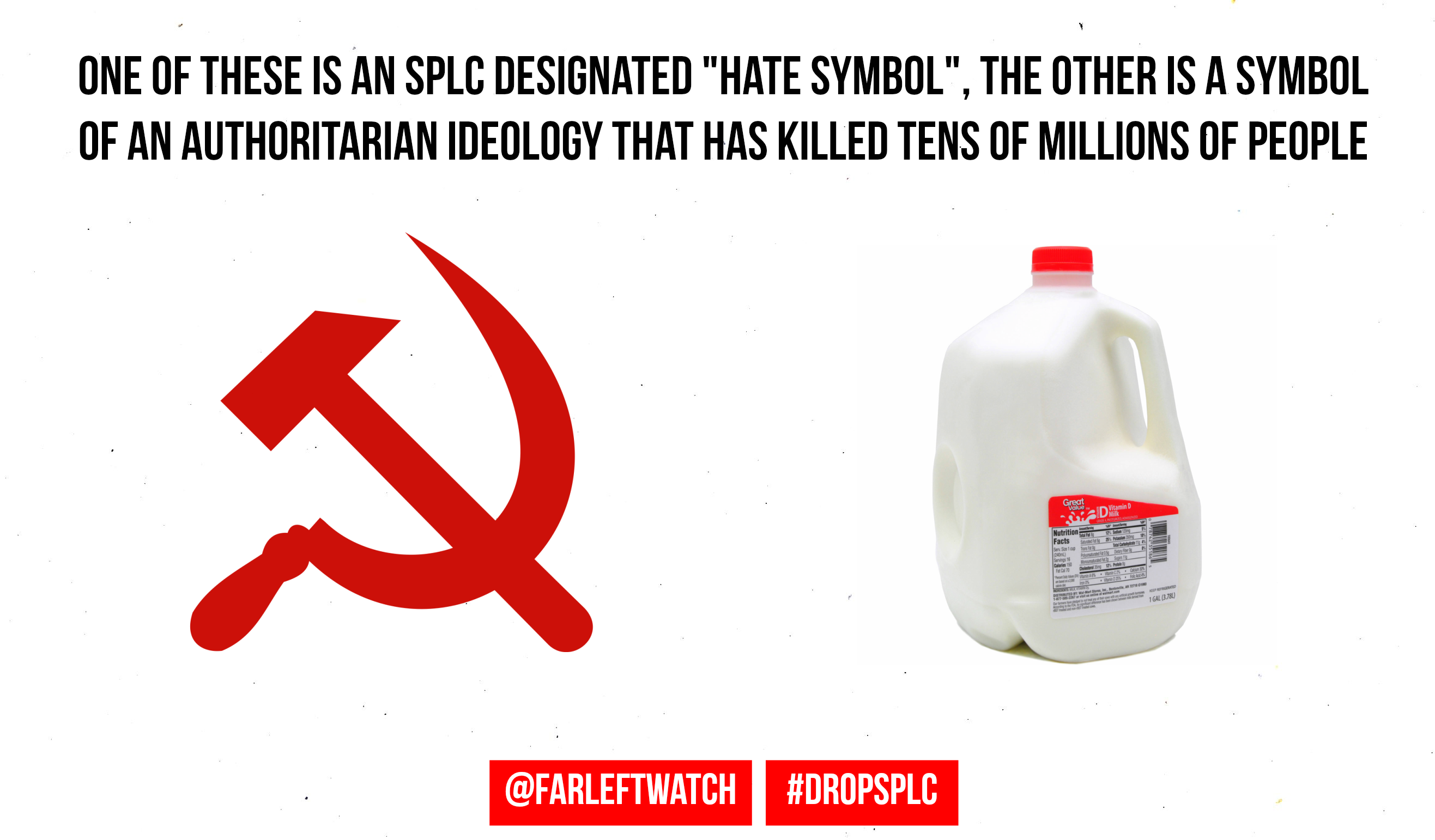 The mission of Far Left Watch is to investigate, expose, and combat far-left extremism.  
Help us continue to achieve this mission by donating to our Patreon account.


We are also now accepting cryptocurrency at:
BTC/BCH:  18SCjQf9Af3fXxqafRX3EXnBeLVPdThDF4
ETH: 0x850fd7e40b04aAC0240CA5c144DF20f110055Cc2
If you have any tips on far left activities please submit them here.