The Stonewall Militant Front, a Marxist LGBT group that calls for physical violence against people who do not share their worldview is organizing to shut down a Christian church in Austin, Texas. Over the weekend, this far-left extremist group organized a protest to confront members of the congregation.This protest was promoted and then covered by the far-left blog Incendiary News.
Happening right now outside of homophobic Celebration Church in #Austin . Masked protesters chanting "Defend our youth from these attacks! Pride means fight back!" #lgbt #aisd pic.twitter.com/SZwUiZwMsE

— Incendiary News (@incendiarynews) August 26, 2018
In the lead up to this protest, Stonewall Militant Front doxed the son of the churches Founder and Pastor by sharing his name and picture on their Facebook page. His picture was then shared by other far-left extremist groups that advocate for violence against people they believe to be "fascists" or "bigots".
So who is the Stonewall Militant Front? According to a blog post on their website, Stonewall Militant Front was formerly know as The Revolutionary Alliance of Trans People Against Capitalism. R.A.T.P.A.C. was launched in 2015 but after several years of additional Marxist indoctrination and radicalization they rebranded and decided to adopt more violent and militant tactics:
The name Stonewall Militant Front was very deliberately chosen by our members as one that draws on historical roots and common ties while committing to a militant, revolutionary future. The Stonewall Riots saw LGBT people fight back against the foot soldiers of the capitalist state and the patriarchal oppression they were enforcing. The violently rebellious spirit is emphasized in the word "militant".
Like many supposed "anti-fascists", Stonewall Militant Front is a communist group that primarily exists to combat capitalism:
We lacked any kind of consolidated views as to how accomplish this or what this even really meant, but we did agree on one thing: capitalism is the enemy of the broad exploited majority of trans people and it has to be destroyed.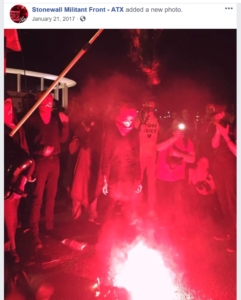 And like most far-left extremist groups, their goal is power and they are fully prepared to use violence in order to take it:
We need that spirit and the righteous violence to be organized, disciplined, and with a protracted goal of winning power and destroying capitalism.
So what do we know about this church they are campaigning to shut down? Celebration Church is a non-denominational Christian church that appears to make tolerance and inclusivity a key part of their stated beliefs:
Celebration Church is about reaching all people with the life-changing message of Jesus Christ. We welcome all people regardless of age, race, sexual orientation, religion or political beliefs. We also believe that every person must be afforded compassion, love, kindness, respect, and dignity. Hateful and harassing behavior or attitudes directed toward any individual are to be repudiated and are not in accord with the doctrines of the church. Anyone seeking God and wanting to learn more of the teachings of Christ is welcome and will not be excluded from attending Celebration Church. We welcome all people.
Stonewall Militant Front and groups like them claim victimhood in order to justify their violent and often illegal activity. This is just one of many examples that clearly demonstrates they do not have the moral high ground. This report was the result of a an anonymous tip we received. If you have any similar information on far-left extremist activity please send it to tips@farleftwatch.com.
The mission of Far Left Watch is to investigate, expose, and combat the far-left. Please share this article via Twitter, Facebook, etc. and encourage friendly media and YouTube content creators to report on this information. 
If you like our work please support us by donating to our Patreon account or making a a one time donation here.

We are also now accepting cryptocurrency at:
BTC/BCH:  18SCjQf9Af3fXxqafRX3EXnBeLVPdThDF4
ETH: 0x850fd7e40b04aAC0240CA5c144DF20f110055Cc2
If you have any tips on far left activities please submit them here.