We recently reported on far-left extremist activity being organized by the Austin Red Guards and their proxy group Revolutionary Student Front at the University of Texas -Austin. Shortly after that report was published we received an anonymous tip regarding similar activity in Los Angeles.
As it turns out, there is a similar cell operating in Los Angeles,  Red Guards Los Angeles (RGLA). Just like the Red Guards Austin, they are students of the communist mass murder Mao Zedong, they openly call for revolutionary violence, and their core membership appears to organize under a few different banners; Serve the People – LA and Defend Boyle Heights.
On February the 8th someone with the Twitter handle @RickFromLA1979 posted a video he recorded of a demonstration organized by the far-left group, Defend Boyle Heights. In this video, he appeared to suggest that the person whose wrongful death they were protesting, Jesse Romero, had a gun. He also jokingly said "shoot them" talking about the protesters.
In response to this video, Serve the People – LA, a militant communist group that works closely with the Red Guards Los Angeles (RGLA) shared a screen capture of his full video, followed by his picture saying "The face of an enemy of the people. A pro-pig, sexist, homophobic, enemy.", and then started contacting his employer in order to get him fired with this call to action "This trash should be dealt with here and now, send in messages and calls. sincerely asking why this ICE supporting, stalking and recording women, and 'jokingly' calling for death is tolerated?". He ended up deleting his Twitter account that same day but the targeted harassment did not stop there.
On Friday, the 23rd of February Serve The People – LA posted an image that someone allegedly sent to them that showed graffiti outside of Sunfare, his employer, that said "Snitches Get Stitches" and "watch the fuck out" along with multiple pictures of him.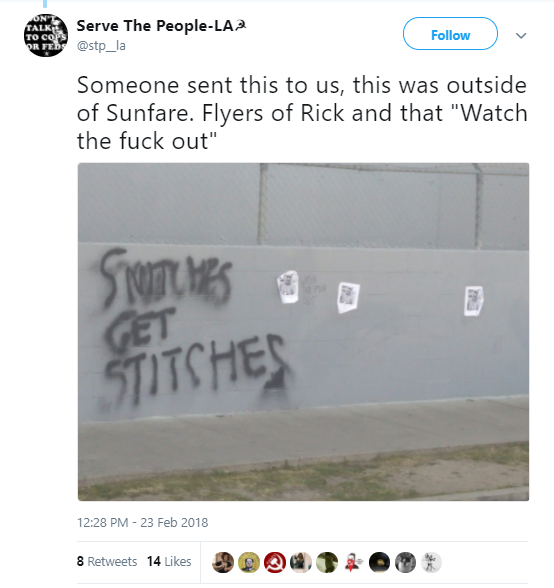 Here is the full thread from their twitter account:
"Fuck Boyle Heights, nasty ass neighborhood"
In reference to Jesse Romero "… he probably had a gun."

This is a mentality of someone says they're born and rised in L.A.
Could you imagine what reactionary shit gentrifiers are thinking? @RickFromLA1979 pic.twitter.com/8m2vx9wjrN

— Servir al Pueblo-LA/Serve the People-LA (@stp__la) February 8, 2018
Naturally, the RGLA enthusiastically shared the story of someone threatening his safety:
Masses out here taking initiative! https://t.co/nCCmlJmvXX

— RGLA☭ (@RedGuardsLA) February 23, 2018
While the media fixates on gun control and demonizing the NRA, the far-left continues to escalate and embrace more violent tactics.
If you have any tips on far-left activities please submit them here.
The mission of Far Left Watch is to investigate, expose, and combat far-left extremism.  
Help us continue to achieve this mission by donating to our Patreon account.


We are also now accepting cryptocurrency at:
BTC/BCH:  18SCjQf9Af3fXxqafRX3EXnBeLVPdThDF4
ETH: 0x850fd7e40b04aAC0240CA5c144DF20f110055Cc2