After the election of Donald Trump I watched in shock as masked, communist flag waving, thugs took to the streets and destroyed millions of dollars worth of property, violently assaulted Trump supporters, and even stabbed a police horse. Even more shocking was the media's failure to accurately report on these events and the failure of our elected officials to condemn those engaging in this targeted political violence. After a few months of sitting on the sideline as a passive, frustrated, concerned observer I decided to take action and launch Far Left Watch.
Far Left Watch was founded in July of 2017 with the mission to investigate, expose, and combat far left extremism. Our goals are to:
​Expose the growing threat of far left extremism
Provide thoroughly sourced intelligence on far left organizations and individuals
Create a safer society by organizing action plans to reduce their influence
Since our launch we have already made a huge impact in exposing far-left extremists and working to reduce their influence.
The Arrest of Berkeley Antifa member, Ismael Chamu
After receiving an anonymous tip about the Antifa member, Ismael Chamu, we verified the information and then published an article detailing the evidence that implicated him. In this article we encouraged our readers to take action and contact the Mayor of Berkeley, Jesse Arrequin, as well as the Berkeley police department and inform them of this new evidence. Shortly after our campaign was launched Ismael Chamu was arrested.
The Deplatforming of Violent Antifa Groups from Patreon, PayPal, etc.
Well before Lauren Southern's Patreon account was deleted we started a campaign to #DefundAntifa. By encouraging our readers to take action on social media we were able to inform Patreon, PayPal, and other fundraising platforms that violent Antifa groups were violating their Terms Of Service and this resulted in the termination of their accounts.
Our Reporting Has Been Featured In Numerous Large Publications
We have published several detailed reports on Antifa and other far left extremist groups. Many of these stories have been picked up by larger news publications including The Daily Caller, One America News Network, The Daily Wire, The Gateway Pundit and Zero Hedge. One of the stories even made it's way to Drudge Report.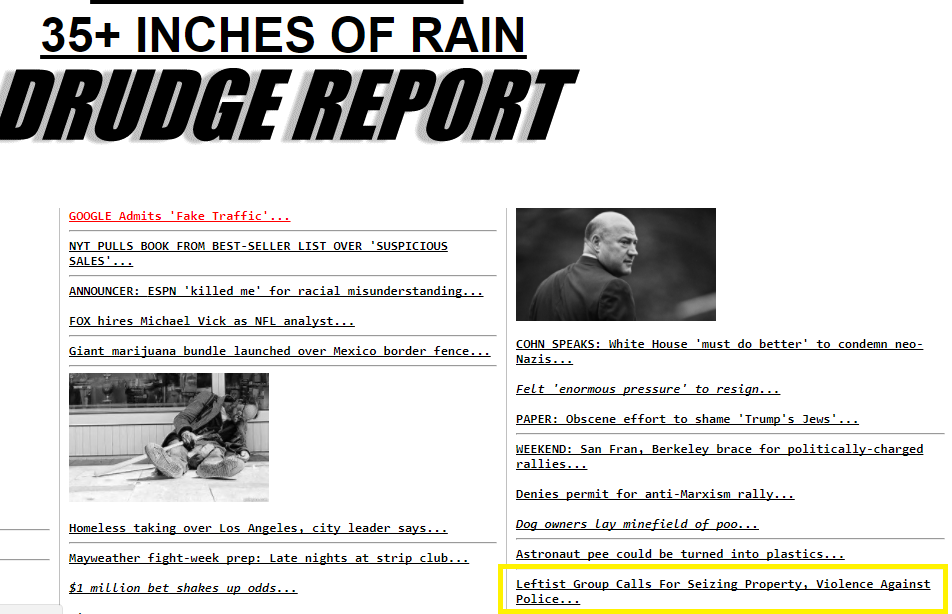 We Are Changing the Narrative
When we launched this project the media was still relatively silent about Antifa. After the attack in Charlottesville, however, this changed. They finally started reporting on Antifa but they painted them as a necessary evil and often times attempted to justify their violence. Now, they are rightly denouncing them. We certainly can not take all of even most of the credit for this shift in the narrative but our reporting has certainly helped educate millions of people on the true nature of Antifa and the far-left. In our first full month on Twitter we accumulated over 7 thousand followers and over 4 million tweet impressions.

With your help, we can continue to expose Antifa and other far left extremist groups. With your help, we can apply pressure on the media and our elected officials to take appropriate actions to reduce their influence. With your help, we can create a safer more tolerant society.
In addition to following us on Twitter and sharing our content we are asking all of our supporters to join our Patreon. A monthly pledge of $10, $5, or even $1 will go a long way towards advancing our mission and will give us the capital we need to make Far Left Watch an effective, efficient, watchdog organization.


We are extremely grateful for your support!
Far Left Watch Staff