UPDATE: Ismael Chamu was arrested on a warrant at his San Francisco home at 9 p.m. Thursday, July 13th according to Alameda County sheriff's office records online. 
Editor's note: This article was originally titled "FLW Extremist Spotlight: Ismael Chamu"
July's Far Left Watch Extremist Spotlight goes to 21 year old Berkeley student, Ismael Chamu. On June 27th, 2017 Ismael was arrested with a knife in the same location and on the same night that 30 instances of slashed tires and graffiti occurred.  After spending 39 hours in police custody he was released without charge where he immediately claimed that his arrest was the result of "racial profiling". This was followed by an outcry of public support for Ismael and condemnation of the Berkeley Police Department. The ACUS Senate and even Berkeley Mayor, Jesse Arreguín, publicly condemned Ismael's "unlawful detainment".
Who is Ismael Chamu? Well, let's let him tell you in his own words. The following is from a blog that he published on April 4th, 2017 shortly before he was arrested: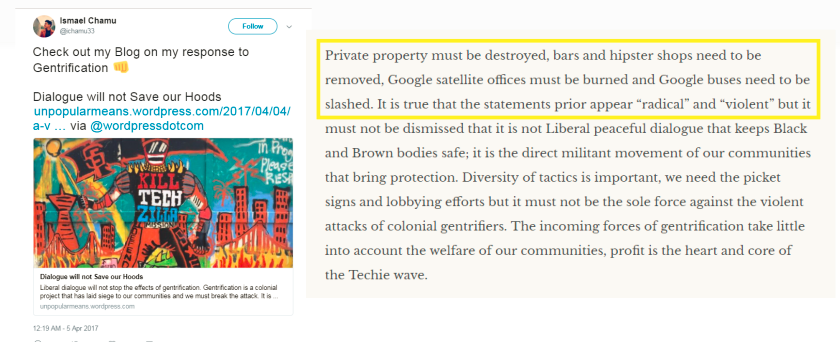 That's right, before he was arrested in relation to 30 instances of anti-gentrification vandalism he published a blog (he recently deleted this post but fortunately we were able to archive it first) advocating for anti-gentrification vandalism.  In that same blog he also refers to gentrification as a "disease" and praises the violent tactics of Antifa:

If this weren't enough, he has also published several inflammatory anti-white posts on his Facebook page, which has since been deleted entirely. But not to worry, we archived those as well: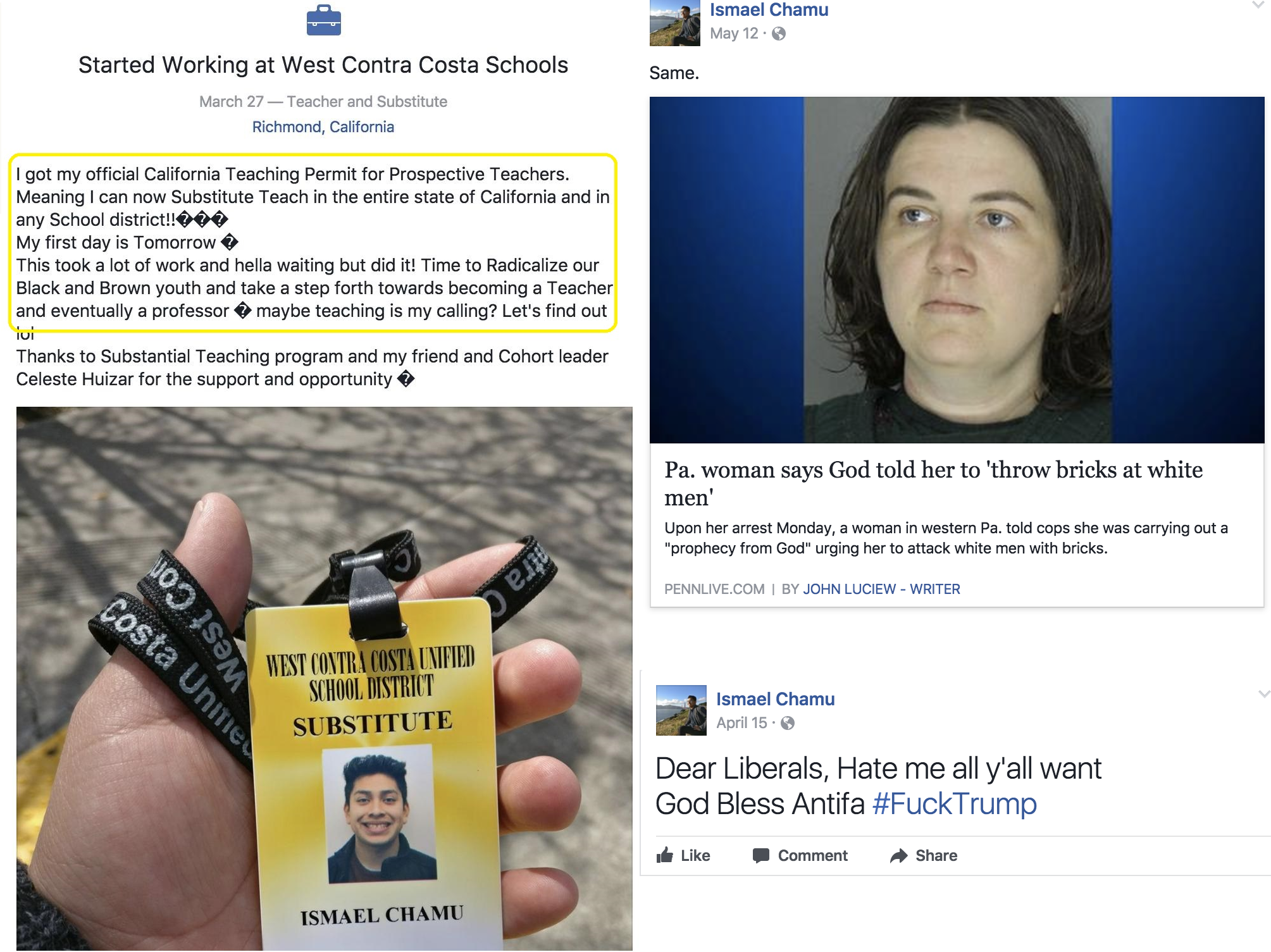 So the question remains, was Ismael Chamu the victim of "racial profiling" or is it possible that the person who published a manifesto advocating for anti-gentrification vandalism who was then arrested with a knife, in the same location, on the same night that 30 instances of vandalism took place, is in fact the perpetrator of those crimes?
Unfortunately, without pressure on the media to report on this information and the police to investigate, we may never have this question answered. That's why I am asking you to share this article with local and national media outlets or tweet it to your favorite YouTube content creator. Also consider contacting the Berkeley Police Department and Mayor Arreguín to make sure they are aware of this evidence.
If you have any tips on far left activities please submit them here.