According to a statement from Guerrilla Mainframe, a Dallas based anti-capitalist militia group, one of their organizers, Rakem Balogun, was taken into custody following a raid by the FBI and ATF on December, 11th of 2017. Part of that statement reads:
"On Monday morning at 5 am, the FBI and ATF kicked Rakem Balogun's door down and took him into custody, on a seek and destroy mission in search for illegal weapons. Since that day he has been held captive; essentially kidnapped by the F.B.I.

The F.B.I. report detailing the perceived BIE threat specifically discusses the shooting of Dallas police officers in July 2016. The document was prepared by the F.B.I Domestic Terrorism Analysis Unit, and has shown an effort to "criminalize" political organizers with progressive and revolutionary ethics. The  Trump administration and prior Presidents have made their desire to derail black revolutionaries through declarations and actions crystal clear.  Our struggle as change agents is to instruct and liberate the masses with revolutionary discourse, and we will continue to do so.

Simply, we have a love for our community and people that allow us sanctuary even in the midst of a fraudulent criminal justice system. Rakem Balogun is a co-founder of Geronimo Tactical, Huey P. Newton Gun Club, and a principal member of Guerrilla Mainframe." 
Per their statement, Balogon was in leadership roles with Geronimo Tactical, Huey P. Newton Gun Club, and Guerrilla Mainframe. Let's take a look at these three groups.
Geronimo Tactical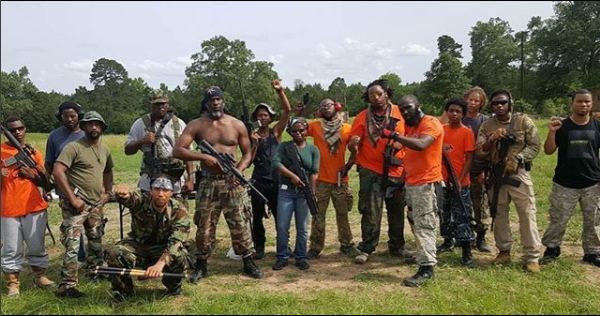 We were unable to find an official website for this group but we did find three Eventbrite events that all ended with the same exact statement:
"GERONIMO TACTICAL IS A TACTICAL GROUP BASED OUT OF DALLAS TEXAS THAT FOCUSES ON TEACHING SURVIVAL SKILLS WEAPONS TRAINING AND SELF DEFENSE TACTICS TO THE COMMUNITY. join our group on Facebook and Instagram" 
Their Facebook group, which has almost 800 members, is a closed group meaning you have to request to join and be confirmed by one of the group admins. The public description states:
"Operation CAT (Community Anti Terrorism) 4/2/2016 BAIR vs South Dallas was the birth of Geronimo Tactical and it's operations. A group of dedicated Men and Women from HPNGC decided that they wanted to take militancy and readiness to the next level with actual weekly training and preparation. Geronimo Tactical want to raise the bar of left wing militants ability to protect themselves and community by fostering a culture of elite training. Geronimo Tactical will and still maintains its solidarity with HPNGC and all RBG/ Revolutionary Formations and looks forward to continue to provide support in the near future. This group is for social media organization and psychological preparation. This project is labeled HIGHLY CONFIDENTIAL. We are the only people allow in this group."
Their Instagram account, which has almost four thousand followers, is much more straight forward. It simply has a quote from the Communist mass murderer Mao Zedong that says "Political power grows from the barrel of a gun", a PayPal link, and LOTS of pictures of the group conducting paramilitary training.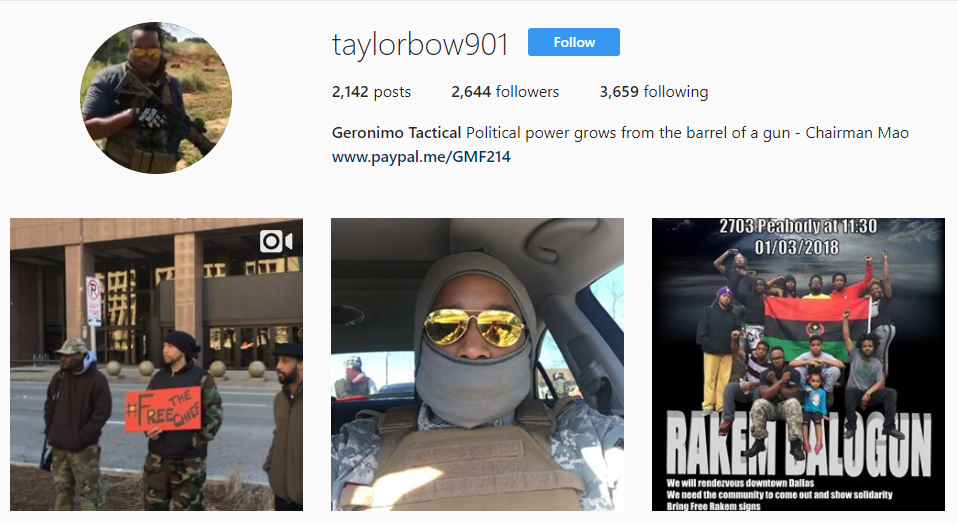 Huey P. Newton Gun Club (HPNGC)
According to their website, HPNGC is:
a coalition of members from various different groups/organizations coming together in unity to practice our 2nd amendment right "To bear Arms". Here are the current organizations involved: 

Guerrilla Mainframe 
African Angels
Brothers Against Racist Cops
Black Riders
Vanguard Soldiers
Black and Brown United
Peoples Liberation Army
People's New Black Panther Party
In their "Political Framework" section they state:
"In essence we take responsibility for the growth and development for our community which is an element to our nationalist ideals. We understand and know we will not win every person over to our methods and practices, however we accept we must walk this difficult path towards eventual armed struggle."
and:
"We are servants above anything else and more than militants we employ the revolutionary ideals of nationalism. Nationalism will only organize the talents that we currently possess as a people and aid our function as a nation. The beginning of this tasks is to arm the body and minds of black people in America in which the Huey P. Newton Gun Club intends to be a part of."
HPNGC faced a lot of scrutiny when it was revealed that Micah Xavier Johnson, who ambushed and killed five police officers during a Black Lives Matter protest in Dallas, Texas in 2016, may have been affiliated with the militant black nationalist group. They have also come under fire for brandishing their weapons and confronting employees at a Dallas gas station.
Guerrilla Mainframe
According to their website, Guerrilla Mainframe is another militia group founded in 2008 in Dallas, Texas. The organizations core foundations are Pan African with teachings from the likes of Kwame Nkrumah and Sekou Toure, both African Marxist political leaders.
Their webesite also includes an alarming list of demands including:
We support the abolishment of the U.S. Constitution as a political right, and favor  a government based on the needs of the people.

We want all freedom fighters/prisoners of war to be freed immediately to rejoin the peoples struggle for revolution.

We demand the redistribution of land, power, and resources be returned to exploited people around the world. We are unified against the evils of capitalism, fascism, and imperialism in all forms.

We believe in Revolution, by this meaning the Total overthrow of the Capitalist System by direct struggle conflict.
Contrary to what Qatari State run media or Antifa propaganda websites have reported, these groups are not just "teaching the importance of nutrition, organic farming, and the benefits of vegetarianism to the black community" or "teaching community members about their 2nd amendment rights". They are violent, far-left militia groups that constitute a genuine threat to public safety and national security. But just in case there is any remaining doubt, let's look to Balogun's own words.
Here are some select screen shots from his Facebook profile which we found because he was listed as the creator for the Geronimo Tactical Facebook group.
On July, 6th 2017, he changed his profile picture to an image of Micah Xavier Johnson in honor of the one year anniversary of the day he ambushed and murdered five Dallas police officers in cold blood. On that same day he said "Comrades and Family tomorrow is #ClaimMicahXDay in memory of a great sacrifice made by a local Dallas Revolutionary! Zalute"
On July, 7th 2017, the one year anniversary of the murders of Senior Cpl. Lorne Ahrens, Officer Michael Krol, Sgt. Michael Smith, Officer Brent Thompson, and Officer Patricio "Patrick" Zamarripa; he said "Today one year ago one Black Man brought Dallas Pig Department to their knees. #77". On that same day he posted pictures of himself as well as pictures of Micah's dead body with the caption "I'm wearing brown and khaki in solidarity for Micah X #77".
At the time of the publication of this article there has been no significant news coverage surrounding the arrest of of Balogun. Please share this story and encourage other influencers to help demonstrate the growing threat from far-left extremists.
Links to archived versions of the sources provided in this article can be found here.
The mission of Far Left Watch is to investigate, expose, and combat far left extremism.  
Help us continue to achieve this mission by donating to our Patreon account.


If you have any tips on far left activities please submit them here.