Battle lines are being drawn for another political rally this Sunday in Berkeley. This time however, activists have organized a "No To Marxism in America" rally.  In the event description written by the organizer, Amber Cummings, it says:
"In America we have Marxism being taught in our schools and communities. Berkeley is a ground zero for the Marxist Movement and we need to speak out and say NO to Marxism. This event is our chance to speak out and expose the plan of purging our nation from a free nation to a communist nation. We will not tolerate this in America. So we are asking people to come stand against Marxism.

In Addition to the description of the event i would like to add this caveat to my event page. I do not invite or condone anyone showing up to this event with the intent of starting violence. I also want to add I do not stand with any racist groups like the KKK , Neo Nazis, or any form of racist groups. You are not welcome at this event and please stay away. I myself am a transsexual female who embraces diversity and loves diversity. This event is not a event of hate speech it is a event about concerns of Marxism in America.

This event has people of all races, genders, and sexualities. This event is as diverse as it gets. We are all coming together in unification and to speak about the growing concern of Marxism. I will stress again I DO NOT STAND NOR CONDONE RACISM and if you are RACIST your not welcome at this event. Also I stress we want a peaceful NONE VIOLENT event that is my overgoal. Thank you so much and hope to see you there."
Even though the event's organizer is a self described, "trans-patriot" who went out of her way to disavow racist groups there was still backlash from the militant Antifa group, By Any Means Necessary (BAMN) How could this be? Haven't we all been told that these violent Antifa groups only target neo-Nazis and white supremacists? Well, I'm sure you won't be entirely shocked by this revelation but we have been lied to. Antifa and the militant Alt-Left do oppose racism, white supremacy, and bigotry but their ideological belief system is rooted in Marxism and communism. To them, someone who opposes Marxism is no different than someone who opposes racial equality.
This attempt to paint those who oppose Marxism as neo-Nazis, white supremacists, and racists is extremely concerning, especially considering the medias ongoing justification of violence against people who have been given those labels. Even more concerning is the response from Berkeley Mayor and alleged BAMN member, Jesse Arrequin. On August 15th he released a statement in which he labeled the "No To Marxism in America" event a "white nationalist rally" also stating that "
"This rally, and its hateful rhetoric, is not welcome in Berkeley. We are currently exploring all options. The city will keep residents informed as the date approaches."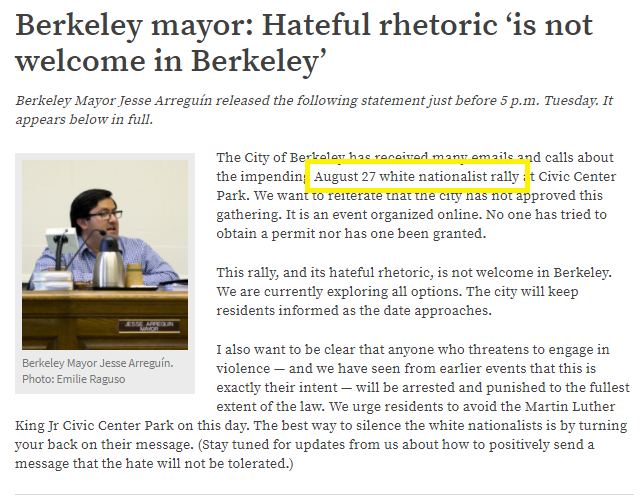 For months, people have been making the joke that "according to Antifa, anybody to the right of Marx is a Nazi". Now that joke is a harsh reality. If you are concerned about the Mayor of Berkeley capitulating to militant far left agitators and labeling people who oppose Marxism at "white nationalists," please take a minute to call or email his office and let them know.
The mission of Far Left Watch is to investigate, expose, and combat far left extremism. Please share this article via Twitter, Facebook, etc. and encourage friendly media and YouTube content creators to report on this information.
If you have any tips on far left activities please submit them here.


If you appreciate the work we do, please consider donating to our Patreon account.