Following Thursday's Senate Judiciary Committee hearing with Judge Kavanaugh and his accuser, leftists on Twitter began discussing the need for a "violent general strike" if he were to be confirmed. This comes just days after a violent antifa group confronted Senator Ted Cruz and his family at a restaurant and then made credible threats against the lives of Senator Cruz, Judge Kavanaugh, President Trump, and others from their Twitter and Facebook accounts.
The original Twitter thread (archived here) came from Data Scientist and left-wing activist, Emily Gorcenski.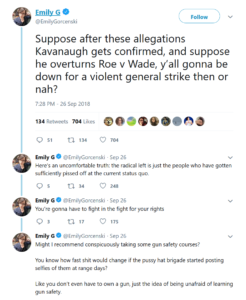 In this thread, Emily asks her 32K Twitter followers if the confirmation of Kavanaugh would finally be enough for them to organize a "violent general strike", not just a "general strike" but a violent one. Emily is an outspoken proponent of antifa and their often violent tactics. She claims to be an anarchist but also appears to be at least somewhat sympathetic to authoritarian ideologies like Communism. She also appears to be supportive of the violent antifa group that confronted and threatened Senator Ted Cruz and his family, Smash Racism DC.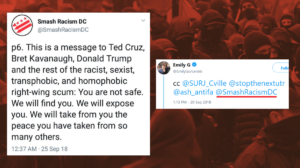 Emily's rhetoric mirrors that of most left-wing activists but she is not just some random person on Twitter. She has a verified Twitter account with over 32K followers, she is one of 3,641 people followed by Twitter CEO, Jack Dorsey and one of 503 people followed by the Southern Poverty Law Center's "Hate Watch" account.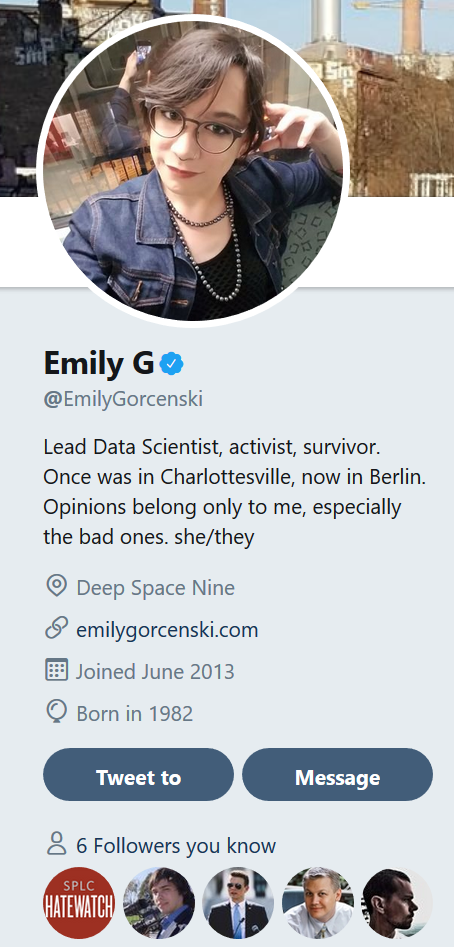 One Twitter user, claiming to be a member of the far-left militia organization, Redneck Revolt, quote tweeted (archived here) Emily saying that he "didn't join Redneck revolt for no reason", the implication of course being that he is "down" for armed political violence.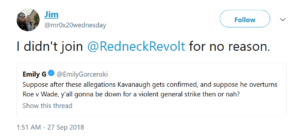 Redneck Revolt is mostly comprised of Communist, Socialists, and other far-left activists. They claim to have over 30 active cells nationwide and until recently they offered a downloadable guerrilla warfare manual on their website that included sections on "kidnapping", "executions", and "terrorism".
The recent spike is violent rhetoric from the far-left is not a departure from the norm, it is a return to it. Far-left political ideologies, like all forms of authoritarianism, are fully dependent on the use of violence from their proponents and ultimately from the state which they always seek to expand and grant more centralized power. Considering that just over a year ago a far-left extremist opened fire on a GOP Congressional baseball practice game, I sincerely hope our reporting results in an investigation by the authorities. Here is how you can take just a few minutes and help us make sure that happens:
Action Plan:
Submit a tip to the FBI. Make sure to include this article in your in you report.
Send this article to media outlets, local law enforcement agencies, and elected officials
Ask @Jack why someone he personally follows is entertaining a "violent" general strike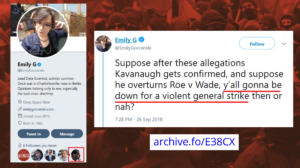 The mission of Far Left Watch is to investigate, expose, and combat the far-left. Please share this article via Twitter, Facebook, etc. and encourage friendly media and YouTube content creators to report on this information. 
If you like our work please support us by donating to our Patreon account or making a a one time donation here.

We are also now accepting cryptocurrency at:
BTC/BCH:  18SCjQf9Af3fXxqafRX3EXnBeLVPdThDF4
ETH: 0x850fd7e40b04aAC0240CA5c144DF20f110055Cc2
If you have any tips on far left activities please submit them here.