Earlier today, we reported on Ismael Chamu and the puff piece recently published by the Los Angeles Times.  It has come to our attention that as a response to that LA Times article, Ismael has raised over $80,000 via an online fundraising campaign.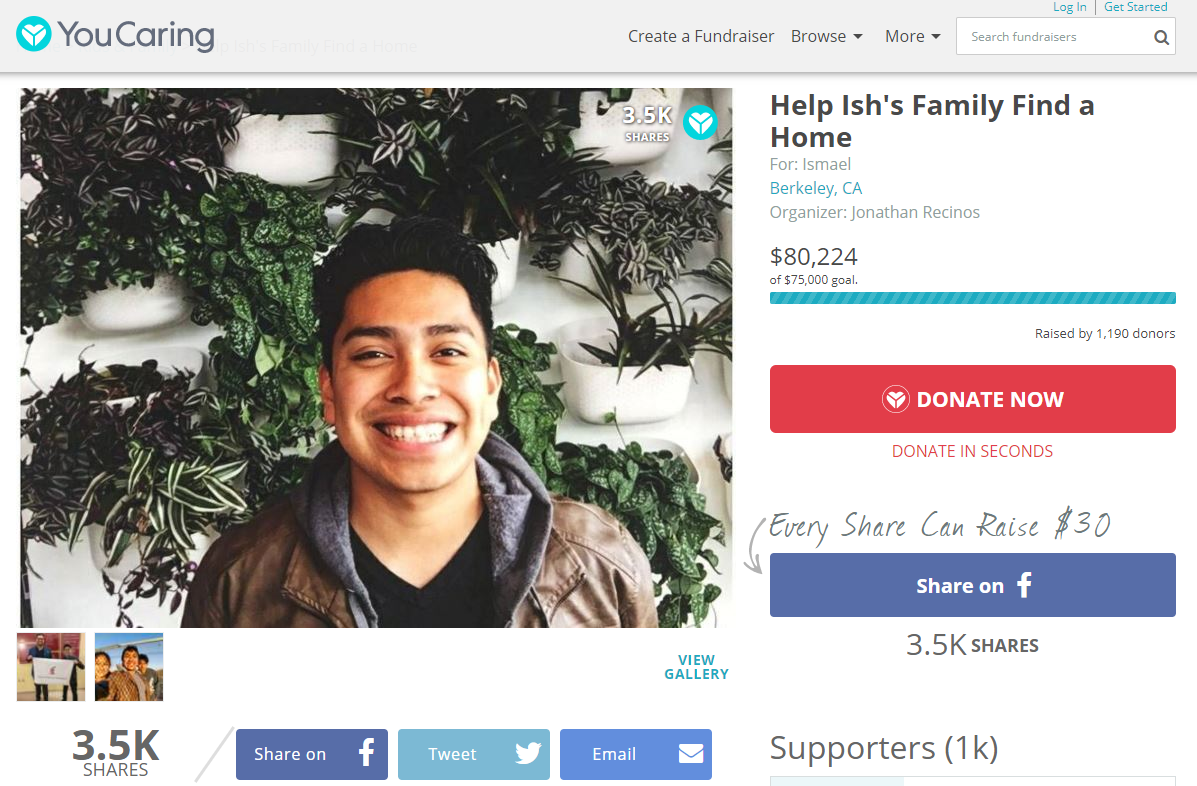 To recap, Ismael was charged with vandalism last July for allegedly spray painting people's cars and fences with "F— White People," "F— the police," "F— frat Boys," "Kill Cops", "Kill Yuppies," "Eat the Rich," "Class War", etc. He was originally arrested for this crime on June 27th, 2017 but after spending 39 hours in police custody he was released without charge where he immediately claimed that his arrest was the result of "racial profiling". This was followed by an outcry of public support for Ismael and condemnation of the Berkeley Police Department. The ACUS Senate and even Berkeley Mayor, Jesse Arreguín, publicly condemned Ismael's "unlawful detainment".
After he was released, we received an anonymous tip with the following information:
That's right, before he was arrested in relation to anti-gentrification vandalism he published a blog (he deleted this post but fortunately we were able to archive it first) advocating for anti-gentrification vandalism. In that same blog he also refers to gentrification as a "disease" and praises the violent tactics of Antifa:
If this weren't enough, he has also published several inflammatory anti-white posts on his Facebook page, which has since been deleted entirely. But not to worry, we archived those as well:
After we originally published the above information about his blog and public calls for criminal activity, we contacted the Berkeley Police Department and encouraged our readers to do the same. Shortly after, he was arrested and charged for these crimes.
Due to the negligence of the Los Angeles Times who originally ran their story and DID NOT include any information about his racism, arrests, or affiliation with domestic extremist groups; Ismael will be getting thousands of dollars from people who likely had no idea about his bigoted, criminal behavior.
If you donated to his campaign and would like a refund you can contact the YouCaring Help Center here.
The mission of Far Left Watch is to investigate, expose, and combat far-left extremism. Please share this article via Twitter, Facebook, etc. and encourage friendly media and YouTube content creators to report on this information. 
If you like our work please support us by donating to our Patreon account.


We are also now accepting cryptocurrency at:
BTC/BCH:  18SCjQf9Af3fXxqafRX3EXnBeLVPdThDF4
ETH: 0x850fd7e40b04aAC0240CA5c144DF20f110055Cc2
If you have any tips on far left activities please submit them here.