Twitter is systematically silencing conservative voices but the official account for the designated terrorist organization, New People's Army (NPA) is still active and they are using Twitter to disseminate terrorist propaganda and recruit more fighters. On top of that, multiple antifa groups have declared solidarity with this terrorist organization and are encouraging people to join.
The New People's Army (NPA) is the military arm of the Communist Party of the Phillipines (CPP) and they were designated by the U.S. Department of State as a Foreign Terrorist Organization (FTO) in 2002. According to a U.S. Department of State report from 2016, this terrorist organization is responsible for the death of at least 158 innocent civilians:
Over the past few years, CPP/NPA has continued to carry out killings, raids, kidnappings, acts of extortion, and other forms of violence primarily directed against Philippine security forces. In May 2013, the Armed Forces of the Philippines reported that from 2011 through the first quarter of 2013, 383 people – including 158 civilians – were killed in encounters between CPP/NPA and government forces.
Here are a few major (NPA) attacks documented by Standford University's  "Mapping Militants Project":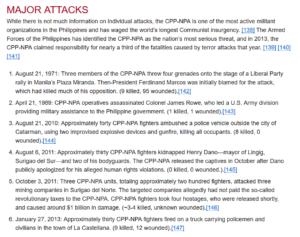 This designated terrorist organization has an active twitter account, @prwc_info, and CNN even recently referenced the account for official statements by the organization:
READ: CPP on bomb scares in Manila schools | via @prwc_info pic.twitter.com/AnGkkggm8c

— CNN Philippines (@cnnphilippines) September 19, 2018
These extremist organization routinely use their Twitter account to brag about their terror attacks and how many people they have killed:
9 AFP troopers killed, 14 wounded in a series of military actions launched by NPA-NCMR.

Read full statement here: https://t.co/EdiFX6Gtgg#OustDuterte#FightTyranny#NPAOffensives pic.twitter.com/LLt1lRjggf

— PRWC (@prwc_info) September 19, 2018
REPORT: 1 AFP trooper killed, 4 wounded in NPA-Negros ambush. @agc_npa pic.twitter.com/gs7tPMmHno

— PRWC (@prwc_info) September 10, 2018
11 killed, 3 wounded in an ambush by NPA-Masbate,

Read full story here: https://t.co/rYMRjob3JZ#OustDuterte#ServethePeople#StandWithFarmers#JointheNPA pic.twitter.com/BoFj2IucE1

— PRWC (@prwc_info) August 5, 2018
They also use Twitter to share propaganda images and to distribute recruiting materials directly to their followers:
Haven't read Ang Bayan, September 7 issue yet? Download the latest issue at https://t.co/VNPc9bOzpn#OverthrowDuterte#FightTyranny pic.twitter.com/VxIYmGLoJa

— PRWC (@prwc_info) September 10, 2018
This terrorist organization is currently running a #JoinTheNPA recruiting campaign in honor or of their 50 year anniversary of terrorism and several US based antifa groups are helping them recruit.
For The People – STL:
Red Path Collective – STL
They also have received support from their "comrades" In Oregon but we are unsure what specific group this was from:
Here's a contribution from our Maoist comrades in Oregon. @DeathToAmerikkk#CPP50#JoinTheNPA #ServethePeople pic.twitter.com/n4q4FB0rWp

— PRWC (@prwc_info) September 18, 2018
Does this terrorist organization that actively recruits on Twitter not violate their Terms of Service? Surely if Milo Yiannopoulos, Roger Stone, Gavin McInnes, Alex Jones, and others were in violation of Twitter TOS, then this designated terrorist organization that has murdered hundreds of people should have their account suspended as well, right? The fact that they have not is one of the most damning examples of Twitter's ideological bias in favor of the left. But the most alarming takeaway from all of this is the growing collaboration between far-left extremist groups like antifa and foreign terrorist organizations.
The mission of Far Left Watch is to investigate, expose, and combat the far-left. Please share this article via Twitter, Facebook, etc. and encourage friendly media and YouTube content creators to report on this information. 
If you like our work please support us by donating to our Patreon account or making a a one time donation here.

We are also now accepting cryptocurrency at:
BTC/BCH:  18SCjQf9Af3fXxqafRX3EXnBeLVPdThDF4
ETH: 0x850fd7e40b04aAC0240CA5c144DF20f110055Cc2
If you have any tips on far left activities please submit them here.