While most people spent the holidays surrounding themselves with their families and the people they love, far-left extremists used this time to terrorize their political opposition. This Christmas, a prominent far-left Twitter user with the handle @AntiFashGordon distributed the names, photos, job titles, and locations of U.S. Immigration and Customs Enforcement (ICE) agents to his eight thousand followers saying "Merry #doxxmas!"
The list which had previously been circulated was re-upped from another user, @Animal_Mothah, whose profile includes the Communist hammer and sickle (a common symbol of the authoritarian left). This user described the ICE employees as "American genociders".
Here is the live Tweet (archived here):
This list was retweeted hundreds of times and was met with praise by other far-left Twitter users. One user even said "Hopefully someone will pay them a warm Christmas visit with some explosives and some buckshot!".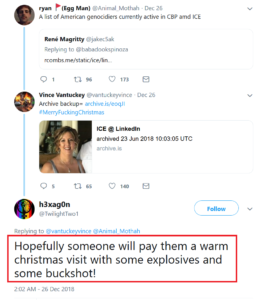 I know what your thinking, "doesn't doxxing violate Twitter's Terms of Use?" It does. But as we have previously demonstrated, the far-left does not appear to be subject to these rules. You could certainly report this user to Twitter but it would be a pointless exercise. It might be more strategically sound to report this information to the FBI. Should you decide to go this route, make it clear that these users are using Twitter's platform to put ICE employees in danger and that Twitter is failing to take any action against them.
The mission of Far Left Watch is to investigate, expose, and combat the far-left and the institutions that empower them. FLW is a rag-tag operation but with your help we can continue to make a significant impact. Please donate to help us become a more effective watchdog organization.