A far-right extremist recently carried out a terror attack at a Jewish synagogue killing eleven people. This terrorist attack reignited a conversation about antisemitism and to the surprise of absolutely nobody, President Trump and Republicans in general were immediately blamed for this attack.
Antisemitism is extremely prevalent on the far-right and Republicans repudiate it consistently, but antisemitism is also very common in far-left circles. In a recent example, the antifa group, Red Guards Austin, singled out Rep. Beto O'Rourke (D-Texas) for his pro-Israel positions.
They shared antisemitic images from their Facebook page calling him a "Zionist Imperialist Pig":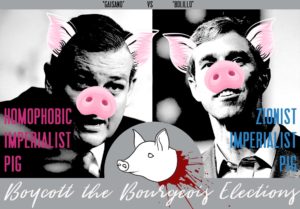 They placed severed pig heads at his campaign office: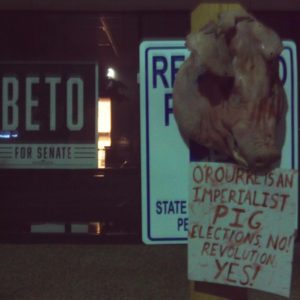 And most recently they vandalized a mural of him with the phrase "El Paso Gentrifier Supports Israel", they also included the communist hammer and sickle logo on their work: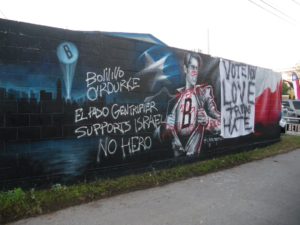 This vandalism was reported by The Hill but they neglected to mention the communist symbol in their reporting and loosely implied that the vandalism was done by an antisemitic Trump supporter. Weird, right?
The mission of Far Left Watch is to investigate, expose, and combat the far-left. Please share this article via Twitter, Facebook, etc. and encourage friendly media and YouTube content creators to report on this information. 
If you like our work please support us by donating to our Patreon account or making a a one time donation here.

We are also now accepting cryptocurrency at:
BTC/BCH:  18SCjQf9Af3fXxqafRX3EXnBeLVPdThDF4
ETH: 0x850fd7e40b04aAC0240CA5c144DF20f110055Cc2
If you have any tips on far left activities please submit them here.