On Saturday, August 12th, political violence in Charlottesville, Virginia led to one fatality, 19 injuries, and numerous arrests.Following this tragic death of Heather Heyer, President Trump made a statement in which he unequivocally condemned the hatred, bigotry, and violence on both sides:
"We condemn in the strongest possible terms this egregious display of hatred, bigotry, and violence that's on many sides. On many sides." 
The media was predictably outraged that he did not identify some of the specific groups responsible for the violence in Charlottesville. After 48 hours of pressure from the media and government leaders President Trump gave a more thorough statement on the events in which he directly called out the KKK, neo-Nazis, and white supremacists:
"Racism is evil.  And those who cause violence in its name are criminals and thugs, including the KKK, neo-Nazis, white supremacists, and other hate groups that are repugnant to everything we hold dear as Americans."  
At a news conference on Tuesday, August 15th, he echoed his original statement saying:
"You had a group on one side that was bad and you had a group on the other side that was also very violent. And nobody wants to say that. But I'll say it right now."
Even though he clearly denounced the KKK, neo-Nazis, and white supremacists, he still continued to correctly point out that both sides were violent. Naturally, the coordinated media talking point that followed was that Donald Trump was "defending white supremacists". Isn't it funny how that works?
This wave of "Trump Defends White Supremacists" stories was followed by a coordinated effort to normalize and justify the violence from Antifa and the far left. Multiple media publications have gone out of their way to paint Antifa's violence as "necessary" and acceptable while in most cases completely omitting the targeted political violence they have been engaging in since the election of Donald Trump.
My guess is that in the coming weeks we will see more violence from both sides and we will see the legacy media continue to be apologists for Antifa and the far left. That's why we decided to put together this handy list for you to have at your disposal.
We could have very easily done "500 times antifa attacked someone who wasn't a Nazi" but for the sake of time we decided to go with five instead.
5 Times Antifa  Attacked Someone Who Wasn't A "Nazi"
#1. Antifa activist and college professor, Eric Clanton, attacked multiple Trump supporters with a bike lock.
#2. Antifa activist and substitute teacher, Ismael Chamu,  spray painted "fuck white people" and "kill cops" and slashed at least 17 tires
#3. Antifa activist pepper sprayed a girl for wearing a hat that resembled a "MAGA" hat.
#4. Antifa activist stabbed a police horse.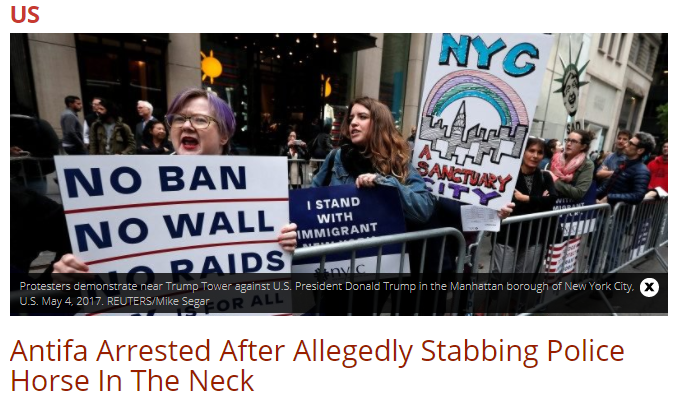 #5. Antifa activist attacked black Trump Supporter
The mission of Far Left Watch is to investigate, expose, and combat far left extremism. Please share this article via Twitter, Facebook, etc. and encourage friendly media and YouTube content creators to report on this information.
If you have any tips on far left activities please submit them here.