Twitter CEO, Jack Dorsey will testify before the U.S. House of Representatives on Wednesday, Sept. 5. He will appear before the the House Committee on Energy and Commerce in addition to a hearing alongside Facebook COO Sheryl Sandberg before the Senate Intelligence Committee. At both hearings, Dorsey will be asked to address online election meddling ahead of the 2018 midterm elections, as well as perceived conservative censorship on social platforms.
According to prepared written testimony posted Tuesday by the House Committee on Energy and Commerce, Jack is set to tell Congress that Twitter "does not use political ideology to make any decisions". He will go on to say that "We believe strongly in being impartial, and we strive to enforce our rules impartially."
If these claims are true, if Twitter is being impartial and not actively selecting winners and losers in the market place of ideas then he should be able to answer these five questions without any issues.
1. Why did Twitter select Rebekah Tromble to lead their new initiative to combat "incivility and intolerance"?
Rebekah Tromble is clearly not a neutral actor, she is an activist. Her very own Twitter history make is clear that her views on what constitutes "incivility" and "intolerance" come from a leftist point of view. She even shared a fabricated story about Donald Trump calling immigrants "animals". In the original video he was asked about violent MS-13 members to which he replied "they're animals" but the video was deceptively edited to make it appear as if he were making a blanket statement about all immigrants.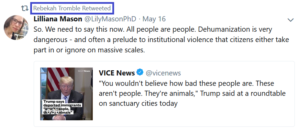 2.) Why are so many conservative individuals and organizations that satisfy all the criteria not being verified?
How is it that this antifascist activist with only 6k followers that said to "Kill Donald Trump" is verified but James O'Keefe, an independent journalist with over 425k follower is not?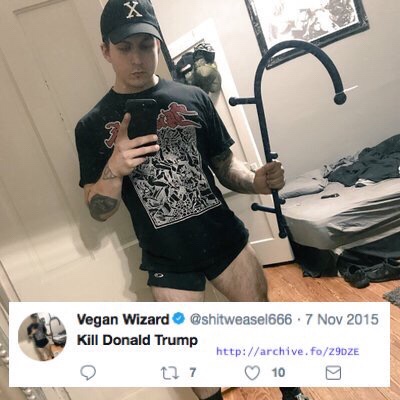 Besides the fact that we get significantly more engagement in spite of having a fraction of a fraction their funding, why is Right Wing Watch verified but Far Left Watch has not been?
Hey @TwitterSupport, any chance we can get verified like our friends over at Right Wing Watch? Thanks. pic.twitter.com/UqFJ78a8IB

— Far Left Watch (@FarLeftWatch) August 19, 2018
3.) Why is anti-white bigotry not treated in the same manner as equivalent tweets against other races?
This double standard was best illustrated shortly after racist tweets by New York Times Editor, Sarah Jeong surfaced. Conservative activist, Candace Owens, tested a theory to see if the same bigoted statements could be made about people of other races and her account was quickly suspended. It seems here theory was correct, Twitter has an institutional bias against white people.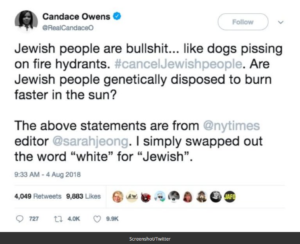 This double standard was even better illustrated with a recent viral #VerifiedHate campaign which exposed dozens of verified accounts that were espousing anti-white bigotry and racism.
Here is an excellent breakdown of JUST the anti-white bigotry from verified Buzzfeed employees:
1.) Louis Peitzman: Deputy Arts & Entertainment Editor at BuzzFeed News. https://t.co/wVAVdFqPuU pic.twitter.com/fCYr7dwv2K

— Nick Monroe (@nickmon1112) August 25, 2018
4.) Why after saying they were putting their verification process on hold did Twitter go on to verify multiple left-wing accounts?
Speaking of the racist New York Times Editor, Sarah Jeong, why after saying that they were going to pause their verification process did Twitter later verify this anti-white bigot?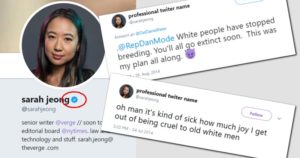 5.) If Twitter is truly dedicated to removing "extremist groups" from their platform as was cited for their decision to ban Gavin McInnes and dozens of Proud Boys accounts, then why are violent, far-left extremist groups like antifa free to use Twitter to radicalize, recruit, and mobilize members.
Twitter recently suspended Gavin McInnes and dozens of Proud Boys accounts claiming that they violated company policy "prohibiting violent extremist groups." Guess who still get's to operator on Twitter? Violent, far-left extremist groups like antifa. There are hundreds of examploes of antifa groups using to twitter to organize illegal activities, to advocate for violence, and to blatantly violate Twitter's Terms of Service but they are given a pass. Here are just a few.
Here, an antifa group is actively doxing agents of Immigration and Customer Enforcement (ICE) agents.
The tweet is still live but we have archived it here as well.
Puget Sound Anarchists out there doing the lords work.

Outing ICE gestapo as should be done. https://t.co/wxF237KhGx #ChingaLaMigra #FuckICE #FuckTheState #FuckCapitalism #Comunidad #Solidaridad #Libertad

— Greater Seattle GDC (@SeattleGDC) June 21, 2018
This antifa account instructed their followers on exactly how to carry out domestic terrorist attacks against ICE. This particular tweet was deleted after we brought it to Twitter's attention but the account is still active.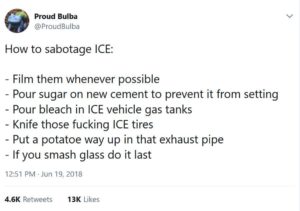 Help us make sure these critical question are asked by contacting Chair of the House Energy & Commerce Committee, Representative Greg Walden here.
The mission of Far Left Watch is to investigate, expose, and combat the far-left. Please share this article via Twitter, Facebook, etc. and encourage friendly media and YouTube content creators to report on this information. 
If you like our work please support us by donating to our Patreon account or making a a one time donation here.

We are also now accepting cryptocurrency at:
BTC/BCH:  18SCjQf9Af3fXxqafRX3EXnBeLVPdThDF4
ETH: 0x850fd7e40b04aAC0240CA5c144DF20f110055Cc2
If you have any tips on far left activities please submit them here.